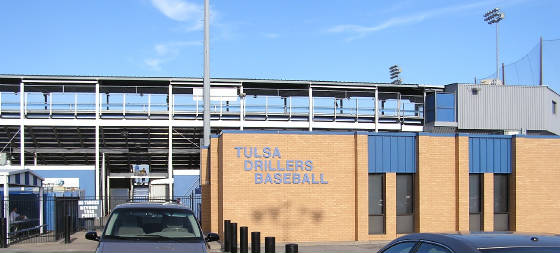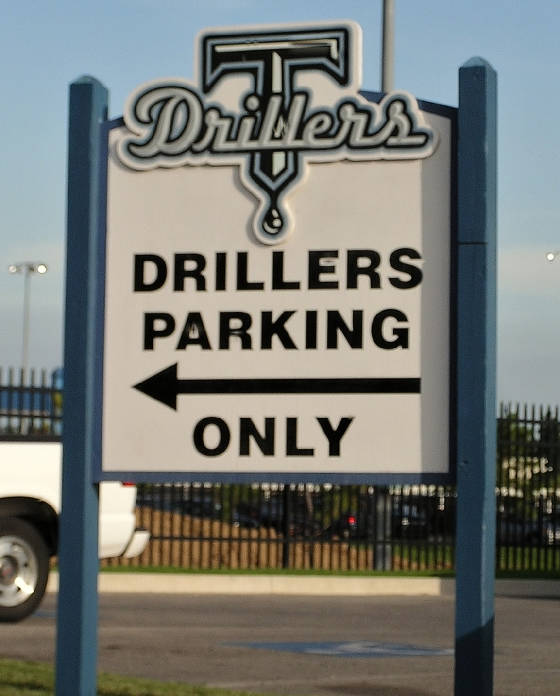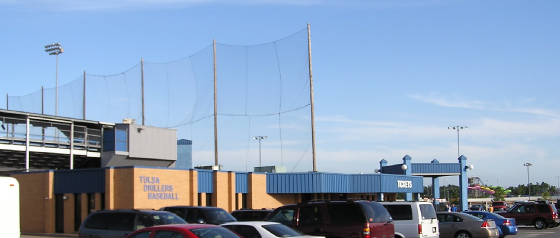 TEAM ::: TULSA DRILLERS
LOCATION ::: TULSA, OKLAHOMA
MY FIRST VISIT ::: AUGUST 25, 2008
OPPONET ::: NORTHWEST ARKANSAS NATURALS
LEVEL ::: TEXAS LEAGUE 'AA'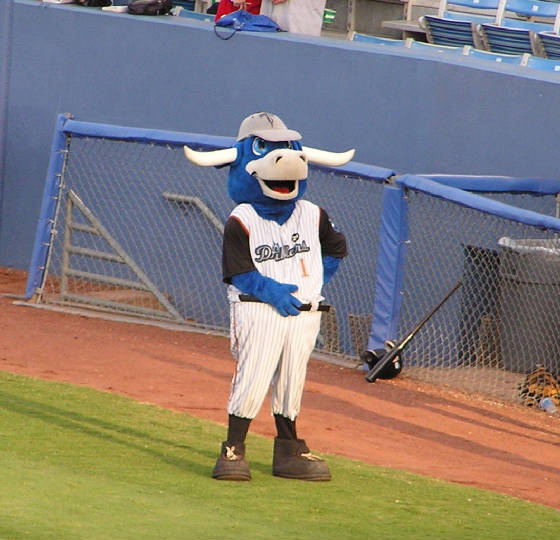 RATINGS
BALLFIELD ::: A-
SCOREBOARD ::: B-
FOOD ::: A
FACILITIES ::: B+
MASCOT ::: A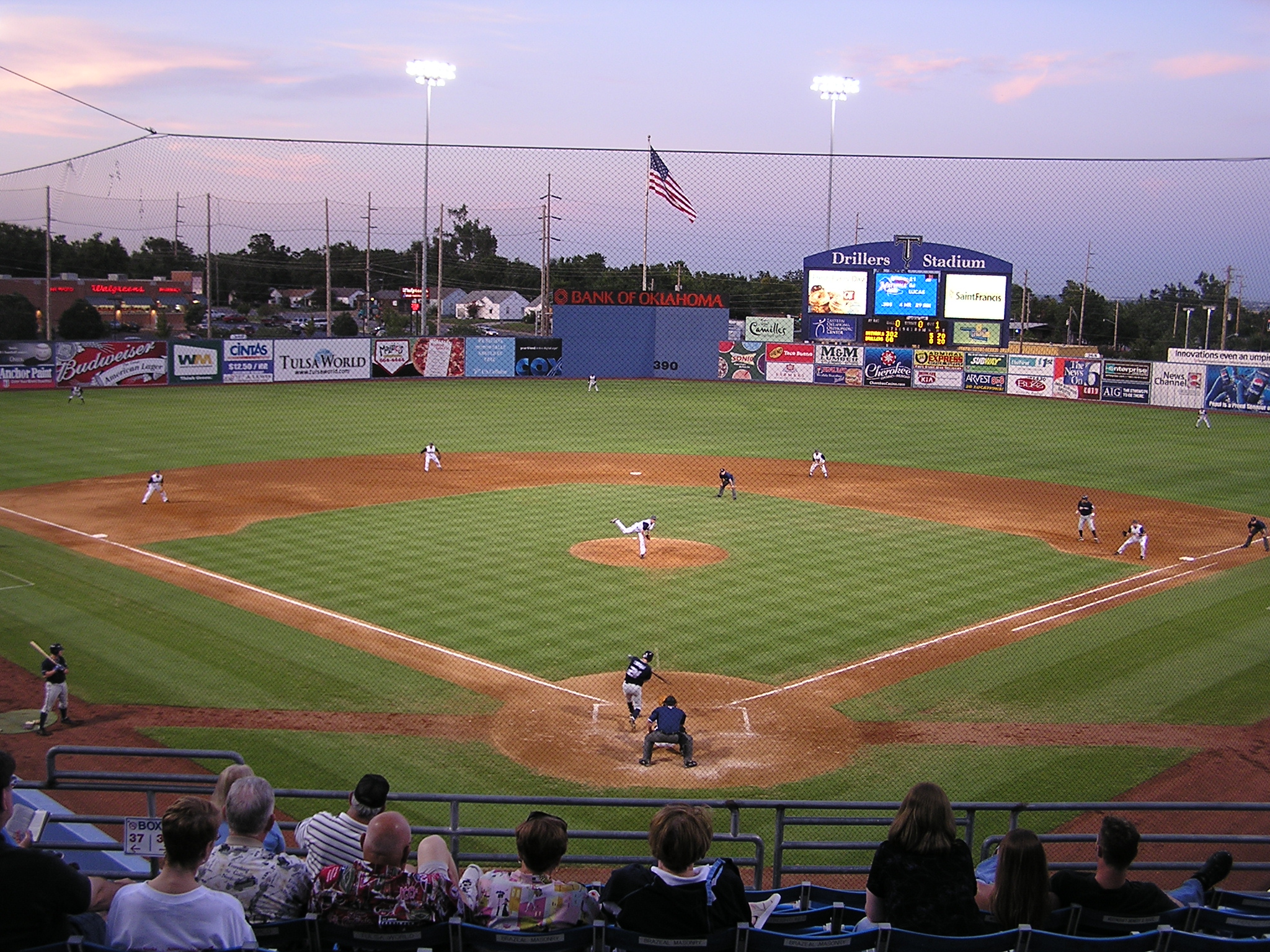 MY TAKE ON THE PARK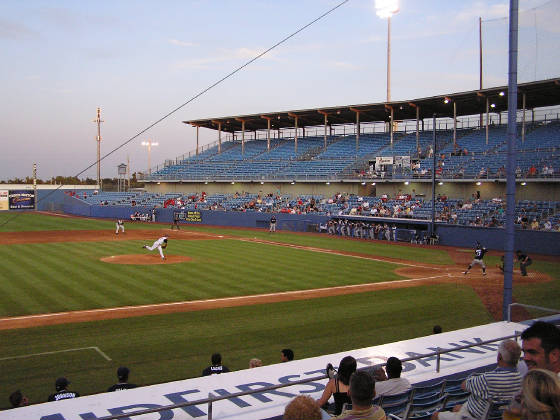 2009 will be the last for Drillers Stadium, the team will be moving to a new downtown ballpark next year. Over the past 30 years things must have changed an awful lot because this place doesn't need to be replaced, it may just need to be moved.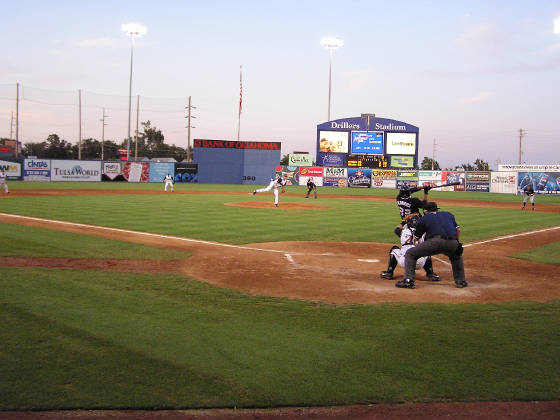 Reminiscent of Joe Davis Stadium in Huntsville, Alabama, Drillers Stadium is a very large ballpark which doesn't seem to draw too well.
The lack of attendance could be because of its location. The park is located on the site of the State Fairgrounds, making it is a pretty easy
place to find but far away from the city center.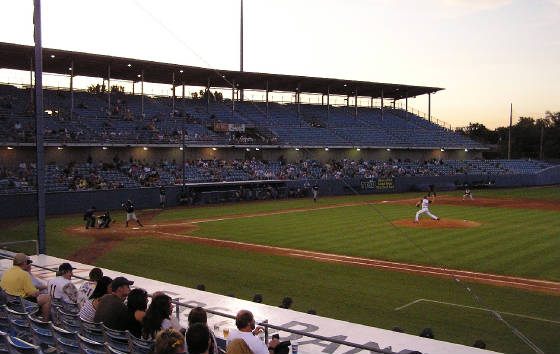 Upon arriving at Drillers Stadium a free parking lot awaits. A short walk through the lot takes you to the gate, where, like Beehive Field in New Britain, you walk through a break in the fence to the park's
concourse.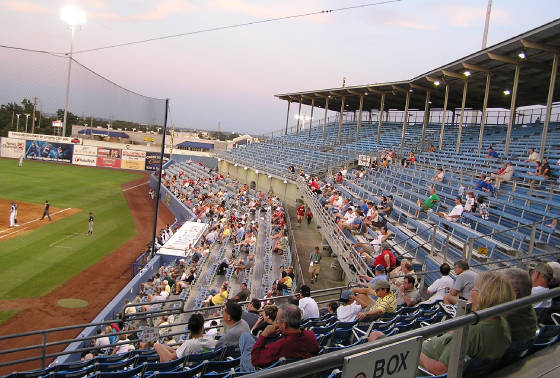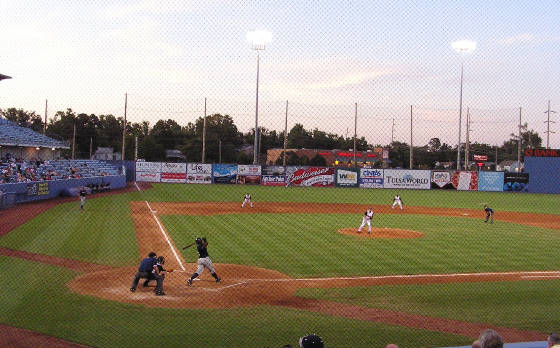 The concourse here has two concession areas both serving the same items.
The items here are all about $2 less than in Oklahoma City. For $3.75 they sell a Frito Pie which is Chili on top of a plate of Fritos, I
thought it was really good.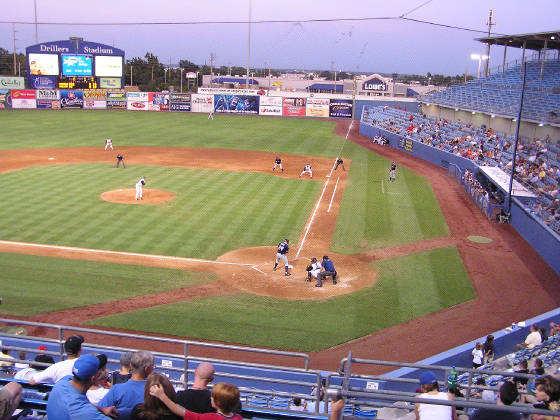 As for the game, the game is handled in a no frills type of way. The scoreboard gives basic information and the players statistics are not
updated during the game. Seating here is a little odd, there are two entrances to the seating area. You can walk down to the lower level with a small concourse but no way to get back to the upper level without going back up to the concourse and a separate staircase for the upper level.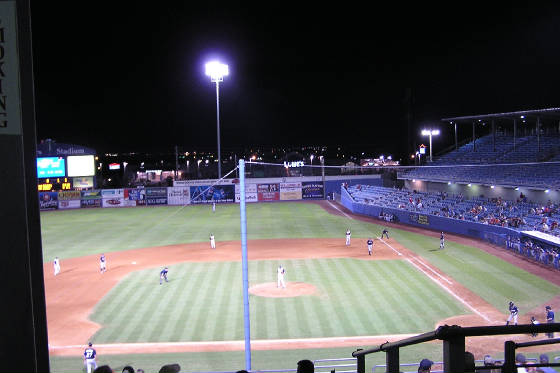 I found one thing to see while here is the sign on the Men's Room door, "Designated Storm Shelter." Not the type of sign you see everywhere but one you should be aware of in the event of an emergency.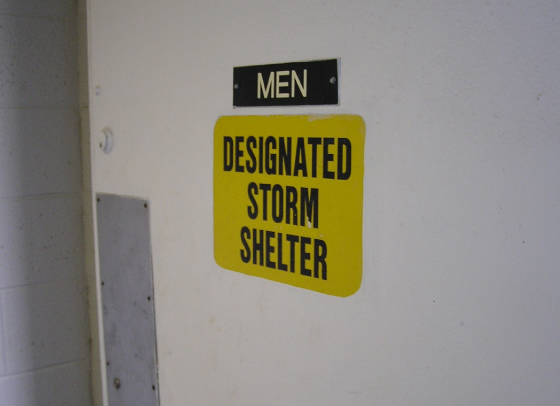 I guess I know why they need to replace this park, it seems it just wasn't put in the right loacation.
Next year the Stadium will be in downtown, the prices will be higher, and the seats will most likely be green. But there was an atmosphere here on the outer edge of the city of Tulsa that I believe will be lost once the team moves to the downtown park.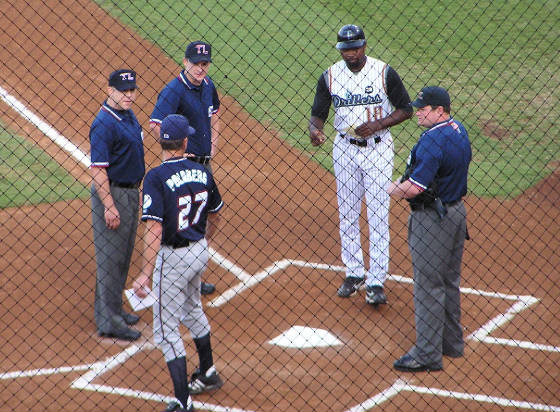 THE LINE UPS
Northwest Arkansas Naturals manager :::
27 Brian Poldberg

Tulsa Drillers manager :::
18 Stu Cole
NORTHWEST ARKANSAS NATURALS
26 Jose Duarte cf
17 Marc Maddox 2b
33 Cory Aldridge dh
35 Juan Richardson 1b
29 Mario Lisson ss
21 Ed Lucas 3b
24 Brian McFall rf
3 Kiel Thibault c
1 Ovandy Suero lf
39 Blake Wood p / WP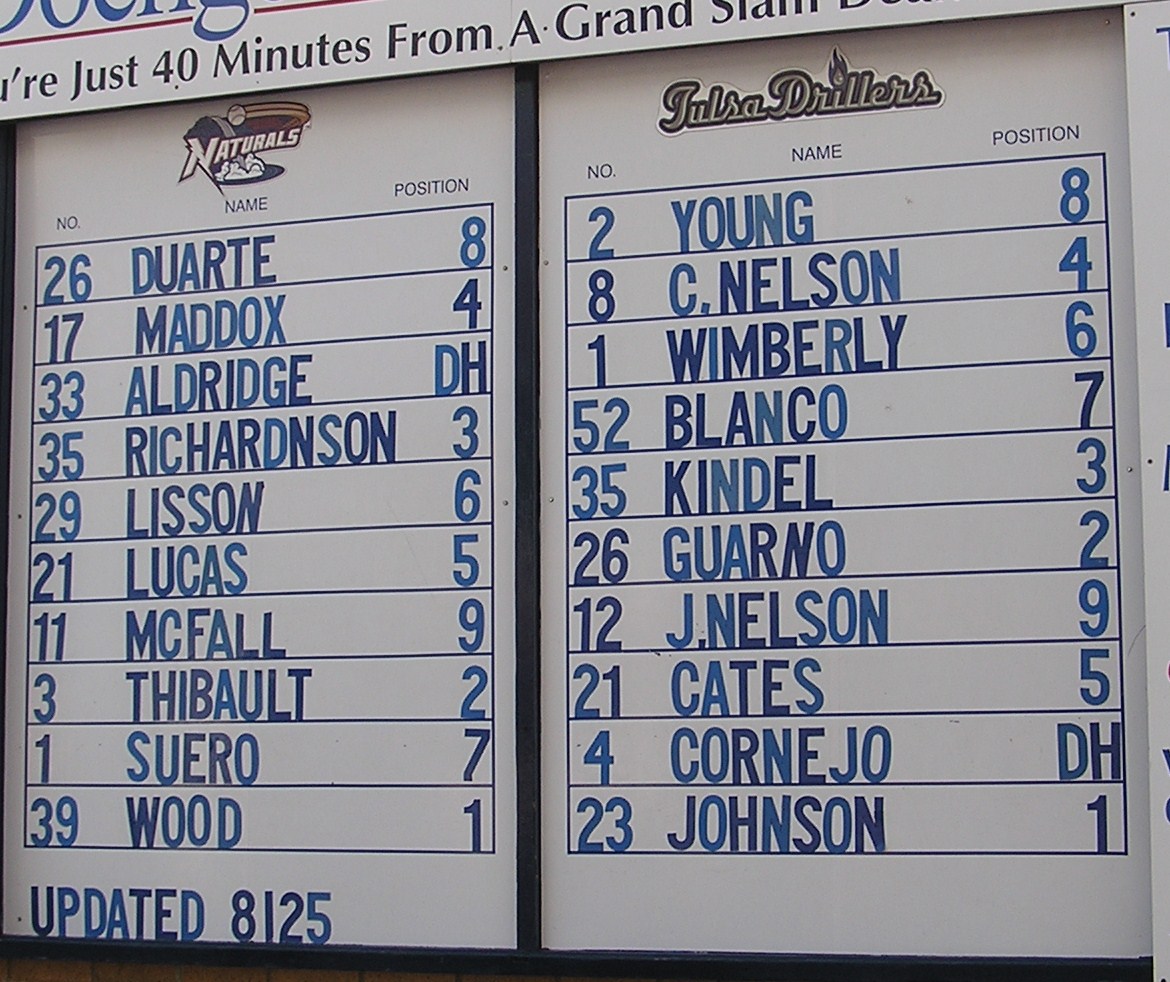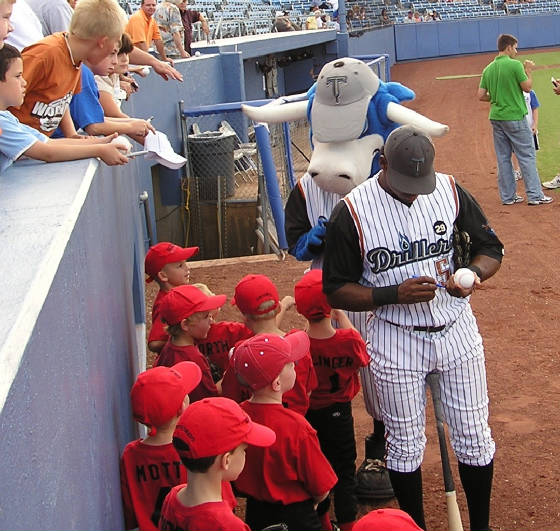 TULSA DRILLERS
2 Eric Young Jr. cf
1 Corey Wimberly 2b
8 Chris Nelson ss
52 Tony Blanco lf
35 Jeff Kindel 1b
26 Rick Guarno c
12 Justin Nelson rf
21 Gary Cates 3b
4 Eddie Corneno dh
28 Alan Johnson p / LP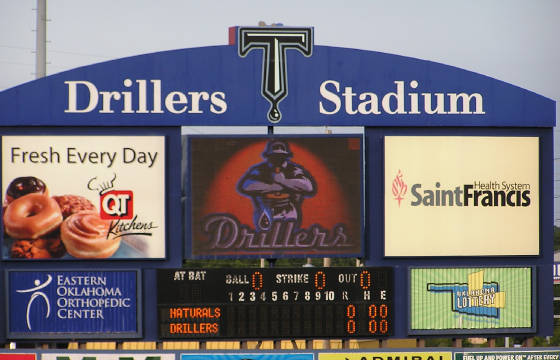 NATURALS 302 330 300 14 17 1
DRILLERS 000 000 010 1 6 2
TIME ::: 2:47
ATTENDANCE ::: 2,060
WEATHER ::: 86 clear
SEND ME AN E-MAIL

LINKS
The Official site of the Tulsa Drillers
Live Cam of the Drillers 2010 home, ONEOK Field
Legends of America - Route 66 Oklahoma
Tulsa weather from WEATHER.com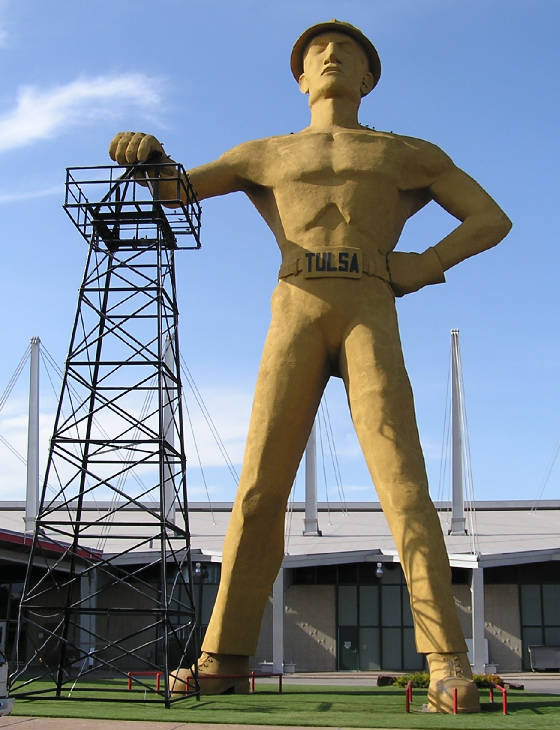 This site last updated :::

© 2000-2012 UNCLE BOB'S BALLPARKS
I AM IN NO WAY AFFILIATED WITH ANY OF THE TEAMS ON THIS PAGE ... THIS PAGE IS MEANT FOR INFORMATION PURPOSES ONLY.